Booty! Booty! Booty! The Shorts are Finally Here!
Introducing the Anti-Cellulite Shorts. Inspired by our #1 leggings, the Anti-Cellulite Leggings, we used our Smart Anti-Cellulite Fabric© to help smooth and reduce the appearance of cellulite just around the booty area, all while providing your butt the support and shaping it needs to look naturally full and round!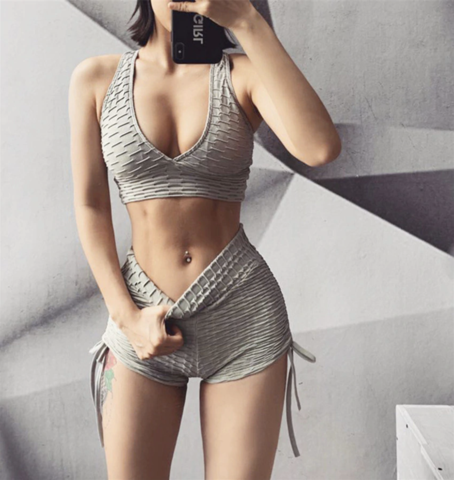 Feel Sexier & More Confident
The Booty Lifting X Anti-Cellulite Shorts is unlike any other gym shorts you'll find. It has a textured honeycomb design that oozes with a chic and sexy vibe. You'll find drawstrings on each side so you can show more skin or reduce rolling up. But that's not all. It has a back fold design that gives the butt a plumper and rounder look! How about the tummy area? Don't worry. The stretchable and non-digging high-waist band will keep everything in.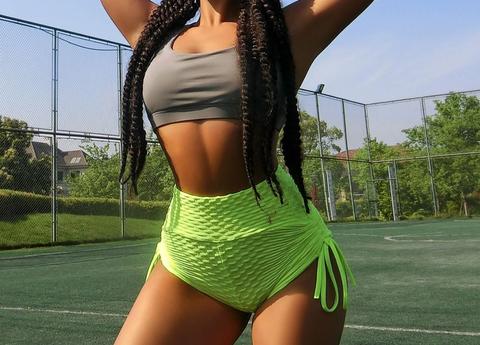 For Sweaty Workouts or Lounging at Home
Our Booty Lifting X Anti-Cellulite Shorts are designed for every gym-goer. This material has the right balance of thickness and softness, making the shorts breathable, squat proof, and moisture-wicking. It is perfect for hiking, running, weight-lifting, and more! It is so comfy and confident-boosting that you'll wear it at home as well.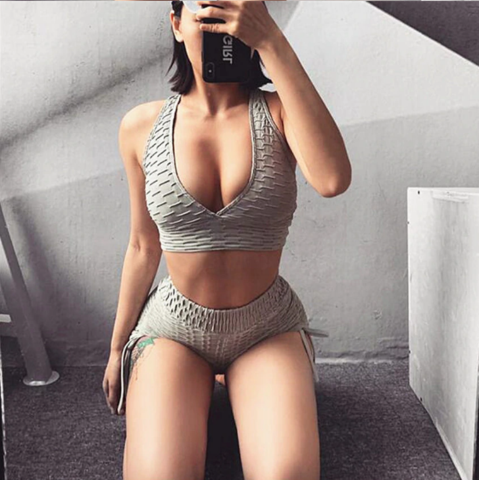 Add a Splash of Color to Your Collection
You can get the Booty Lifting X Anti-Cellulite Shorts in eye-popping colors like orange, neon yellow, and pink. We also have neutral shades like black and grey. You'll love all of them.
5 Benefits of Wearing Anti-Cellulite Shorts
Cellulite isn't inherently a health problem or something that will reduce your worth as a person, but a lot of people do feel terribly self-conscious of the appearance of cellulite on their body. And because it often appears on the bum and the thighs, sometimes the arms and stomach, the natural instinct is to stay as covered up as possible. After a while, your confidence might take a hit, especially once you start believing that you only look good when you're totally covered up. You might be thinking that the words cellulite and shorts are two words that don't make sense together, but keep reading and find out why that's changing. Now that you've heard about anti-cellulite shorts, what's next? Before you get shopping and hit add to cart, you might want to know a little more about anti cellulite shorts and how they work.
They can hide cellulite, just like compression shorts
While nothing gets rid of cellulite faster than a workout or a healthy diet, anti-cellulite clothes can definitely speed up the process and even make it a little easier on you. They can help shape, firm and support your muscles while you workout or go about your day, and can help reduce the appearance of cellulite on your body as well. One way to think of them is to see them as undergarments that hide cellulite. Compression shorts might not offer the same coverage as compression leggings or tights, but they can still do the trick and still provide great support and shaping for your body, making your bum look full and round without compromising your own comfort.
They can do more than just hide your cellulite
Depending on the quality of the shorts, some are made with unique fabric and materials that can help tighten and contour the skin, and built with structure that will help compress the skin underneath. The constant compression works to target layers of the skin and holds them in place, while encouraging healthy circulation, helping to activate your muscles and can ease muscle recovery afterward. Anti-cellulite workout shorts aren't just there to make you look full and cute- they can have a health benefit too.
You can wear them even if you have cellulite
Nothing should stop you from wearing whatever you want, no matter what you think you might look like. Compression shorts will give you the confidence to strut your stuff by working to shape and support your buttocks and tops of your thighs, and some will even help to reduce the appearance of cellulite through compressing the skin and giving you a tightening effect around your midsection and your legs. Even in shorts, cellulite should not be your enemy. They're just as stylish as their legging counterpart While leggings and tights are usually the first thing people look to add to their cart when shopping for anti-cellulite clothes, shorts are just as valid an option, sometimes for an even better price. Workout shorts might not be for everybody because of the coverage issue, but you shouldn't feel like you can't pull them off. The compression feature of shorts will help make sure that you're always feeling secure and supported, all while making you feel more free to move.
They really work (ours do, at least)
As a rule, compression clothes work to contain and compress parts of your body hidden under the unique fabric. While you might think that all these shorts and leggings are made equal, they're really not- you might buy any old shorts that say 'anti-compression' and end up with shorts that are just tight but do nothing to hide anything you might not want other people to see. LiftLeggings Booty Lifting X Anti-Cellulite Shorts, however, are guaranteed to help you reduce the appearance of cellulite on your bum and thighs, and will work to emphasize only the best parts of you. Its unique textured honeycomb design is unlike anything on any other pair of gym shorts, making you look chic and sexy while staying functional. The Booty Lifting X Anti-Cellulite Shorts have a back fold design that helps to give your butt a round, plump look, and the waist band that stretches and won't dig into your skin will make sure your workouts stay secure and keep everything in. As well as being functional, the Booty Lifting X Anti-Cellulite Shorts are also stylish and come in a range of color, from a bright color like orange, neon yellow and pink to more subdued shades like black and grey. They're a great choice if you're looking to add new shorts to your wardrobe that aren't just in the color black. You'll be sure to be satisfied no matter what size you choose, and you'll get your money's worth at a great price (in more than just USD) with great functionality. Plus, you can enjoy free standard shipping through our international carriers, and you have the option to choose expedited shipping within the USA.
IF THEY DON'T FIT
Send an email pearsonkathryntgf203@gmail.com to get the right size!
SIZING CHART